Celebrating Australian Indigenous Artist Collectives
NAIDOC Week is an opportune time to pay homage to the rich art and culture of our First Nation peoples – and what better way than to explore Australian Indigenous Artist Collectives? Australia is a vast place, with myriad landscapes, flora and fauna which has informed Indigenous art for tens of thousands of years, and provided Aboriginal Nations around the country a unique natural tapestry from which to draw inspiration.
Indigenous Australians have for years incorporated motifs, symbology and messaging into their works to create pieces that are not only striking but provide a story for future generations. Following European colonialism, new methods and influences have been introduced to Indigenous Art practice, however, it goes without saying that this has not come without challenges to the preservation of traditional techniques.
An emergent stronghold of self-determination is the Australian Indigenous artist collective – various organisations that provide platforms for talented individuals to showcase their creativity, relish traditions and explore contemporary developments and futures. This article will take a look at four remarkable collectives and how they support a greater understanding and appreciation for Indigenous art and its cultural significance.
---
This NAIDOC Week immerse yourself in the works of Indigenous Australian artist collectives who honour traditional practices with contemporary style.
---
Warlukurlangu Artists
Warlukurlangu is one of Australia's oldest Indigenous-Owned Art Collectives in Central Australia, being in operation since 1985. Based in Yuendumu, a remote Indigenous community in the Northern Territory, Warlukurlangu Artists are renowned around the country and have featured in hundreds of exhibitions in Australia and worldwide. The name Warlukurlangu translates to "belonging to fire" a reference in the local Warlpiri language to a sacred fire dreaming site west of Yuendumu.
This collective was established by a group of Warlpiri people, aiming to preserve and promote their cultural heritage through art. Warlukurlangu Artists predominantly specialise in conveying Jukurrpa or the dreaming story, through their iconographic style with signature unrestricted colour pallet. These vibrant artworks often feature intricate dot painting techniques and bold colour palettes.
This artwork is titled: Emu Dreaming by Jeffrey Gallagher.
Story from the certificate:
This particular site of the Yankirri Jukurrpa, (emu Dreaming [Dromaius novaehollandiae]) is at Ngarlikurlangu, north of Yuendumu. The 'yankirri' travelled to the rockhole at Ngarlikurlangu to find water. This Jukurrpa story belongs to Jangala/Jampijinpa men and Nangala/Nampijinpa women.
In contemporary Warlpiri paintings traditional iconography is used to represent the Jukurrpa, associated sites and other elements. Emus are usually represented by their 'wirliya' (footprints), arrow-like shapes that show them walking around Ngarlikurlangu eating 'yakajirri' (bush raisin [Solanum centrale]).
In the time of the Jukurrpa there was a fight at Ngarlikurlangu between a 'yankirri' ancestor and Wardilyka (Australian bustard [Ardeotis australis]) ancestors over sharing the 'yakajirri'. There is also a dance for this Jukurrpa that is performed during initiation ceremonies.
---
The Torch
Founded in 2009, The Torch is an artist collective based in Naarm (Melbourne), Victoria, that works closely with Indigenous artists who have been through the criminal justice system. The Torch aims to support and empower these artists by providing artistic and cultural opportunities, including workshops, mentorships, and exhibition opportunities. The collective encourages artists to explore various mediums, from painting and sculpture to ceramics and textiles.
The Torch's commitment to fostering creativity and self-expression has helped artists to regain a sense of identity and purpose through a connection to culture and tradition. By embracing participants as Artists rather than formerly incarcerated people, The Torch provides an avenue for change, as part of a rehabilitation process that helps build confidence and social capital and creates pathways to economic stability, with 100% of the art sale price going to the artist.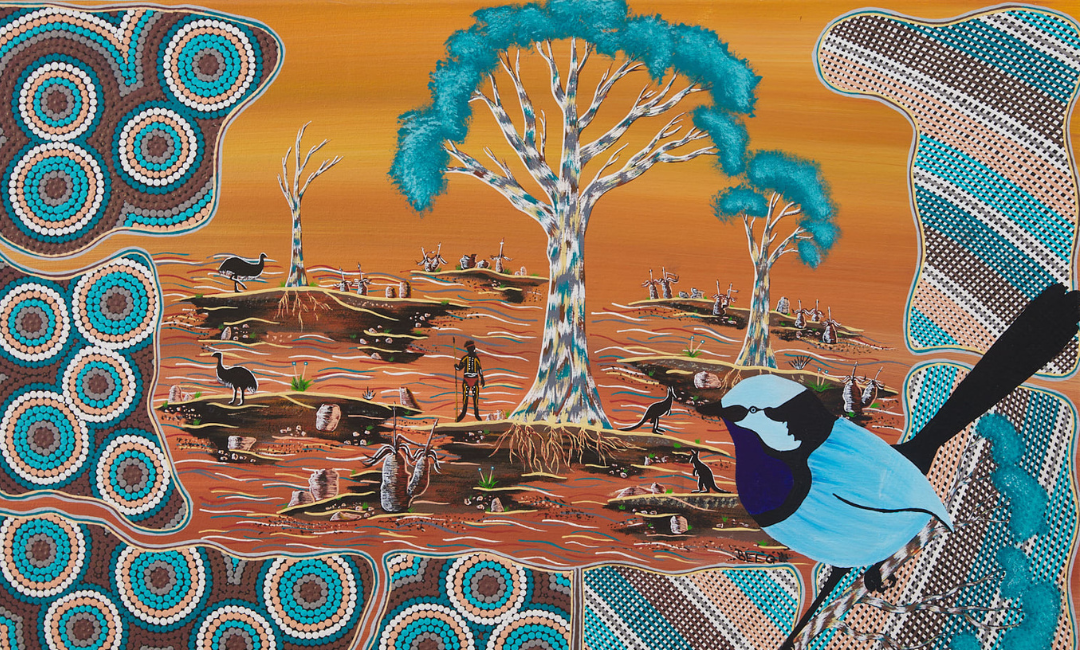 ---
Mangkaja Arts Resource Agency
Hailing from Fitzroy Crossing in Western Australia, Mangkaja Arts began as part of Karrayili Adult Education Centre in 1981. This collective serves as a platform for artists from the Ngurrara, Walmajarri, and Wangkajunga language groups. The initiative provided a place where Indigenous artists could study, paint and retell their personal stories, bush trips and histories. The centre was based within a tin structure close to the highway, on the main thoroughfare past the town, where travellers would stop and bargain directly with artists.
Today, their artworks often depict the rugged landscapes, wildlife, and ancestral stories of the Kimberley region. The artists at Mangkaja Arts work with a variety of materials, including ochre, acrylics, natural pigments, and canvas. Notable artists associated with this collective include Sonia Kurarra and Ngarralja Tommy May.
This artwork is titled: Freshwater Mussels by Lynley Nargoodah, acrylic on 3mm polycarbonate.
Nargoodah states: "This painting is inspired by my son Wyatt who likes to look for the freshwater mussels when we are down at the river. They are buried in the sand. We cook them up and they are good to eat."
Lynley Nargoodah is the current chairwoman of Mangkaja, she states that "Growing up in and around Fitzroy Crossing I have learnt how important it is to keep stories alive from elders. From a very young age as we would make our way fishing and or hunting or whether is was around a campfire at night, stories would be told about the past, since working at Mangkaja Arts Resource Agency I was able to witness those stories come alive."
---
Coolamon Creative
Coolamon Creative is a business based in Mparntwe (Alice Springs) that is known for using traditional motifs in modern interpretations, such as for graphic design, digital illustration, photographic, and 2D motion graphics purposes. Coolamon is run by two sisters, Samantha and Gabrielle who are descended from the Dagoman people in Katherine.
Coolamon is known for employing a wide range of artistic techniques, drawing inspiration from traditional practices and contemporary influences, and seamlessly merging old with new. Coolamon has created various art projects for Envirobank, including the below Drop'n'Go pod decal.
From the artists "The waterholes (concentric circles), plants and animals, lily pads and plants represent healthy country. The organic lines represent comfort and ease of recycling with Envirobank. The hands represent working together, sharing the responsibility of recycling."
---
Indigenous art collectives have the ability to empower artists, foster cultural exchange, and provide a platform for creative expression and self-determination for First Nations People.
By supporting Indigenous Australian artists and their collectives across the country, we can appreciate the significance of Indigenous art practices and contribute to the preservation and recognition of their rich cultural heritage.